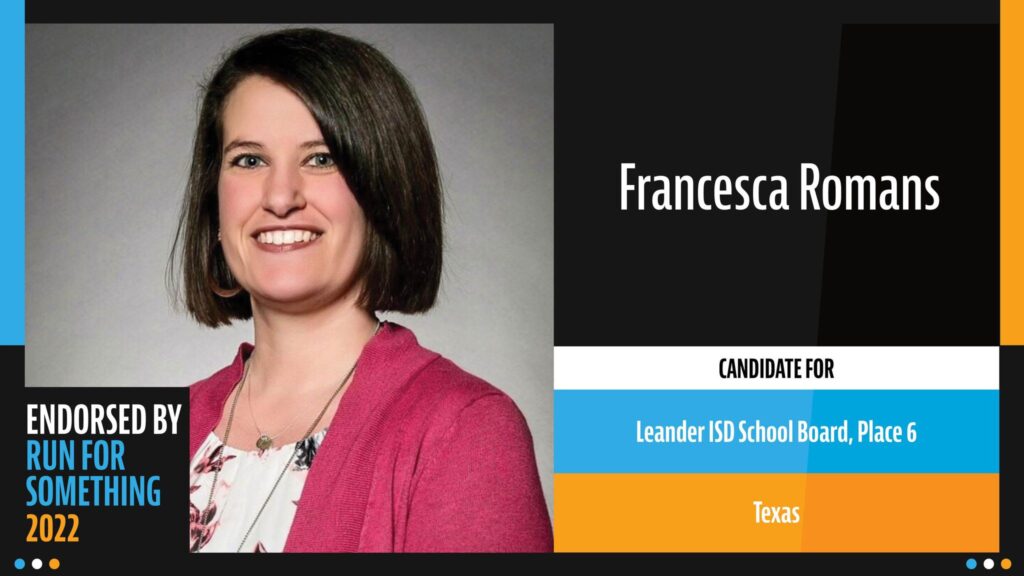 Congratulations to Francesca Romans for Leander ISD – Place 6 on today's announcement that she has earned the endorsement from Run for Something, one of just 119 leaders nationwide to join their September 2022 endorsement class.
Run For Something considers progressive candidates who are running for local or legislative offices across the country. They select candidates who have a positive vision for their community and play an active role in it, are focused on voter outreach, have "Heart & hustle" both to win elections and to get things done every day, are representative of their community, and are leaders they consider "Hell yeah candidates" they feel strongly about.
Knowing Francesca, we couldn't agree more. If you haven't met her yet, get to know her. She's an amazing force for good in our community and a tireless advocate for LISD schools, educators, and students, and will make an excellent addition to our Leander ISD Board of Trustees.
About Francesca
"Francesca is a public education advocate and parent of two Leander ISD students. She has lived in the district for almost 17 years and enrolled her older child in 2012. She is a strong and vocal advocate for Diversity, Equity, and Inclusion, educational access, mental health access, teacher and school staff retention, and public school financing. She is involved in the district as a crossing guard, band mom, and Parent-Teacher-Student Association member. She has also served on the School Health Advisory Committee, the Community Curriculum Advisory Committee, and the Bond Oversight Committee.

Before leaving the full-time workforce in early 2021, Francesca spent her career working for Texas public school districts in school law defense. She started as an office runner when she was a senior in high school and worked to become a certified paralegal. The bulk of her work was concentrated in school construction and public information. Through her experiences, Francesca has a thorough working knowledge of public school policies and procedures, and is familiar with the laws that govern school districts, including the Texas Education Code and the Family Educational Rights and Privacy Act (FERPA).

As a trustee, Francesca's priorities would be to amplify student and teacher voices, to work towards equitable educational access to programs, materials, and facilities across the district, and to increase community outreach over the 200 square miles that make up Leander ISD."

– Run for Something: 119 Leaders you need to know now! Meet the September 2022 Endorsement Class!
For more information, or to donate to Francesca's campaign, go to: