It's that time again. Election Day is Saturday, May 7. Mark your calendar now and make a plan to vote. This special election includes critical topics for everyone in our area, including:
Texas Constitutional Amendment re: property taxes
Cedar Park Mayor and City Council Place 2, 4, and 6
Cedar Park bonds
Leander City Council Place 1, 3, and 5
Leander vote on Cap Metro
Multiple Leander city charter and procedural updates
Round Rock City Council Place 2 and 6
Georgetown, Hutto, and Liberty Hill ISD board of trustees
Based on input from our members, here are the IDEAL: Inclusion, Diversity, Equity for All Leander recommendations for May 2022 General and Special Elections.
Vote in Leander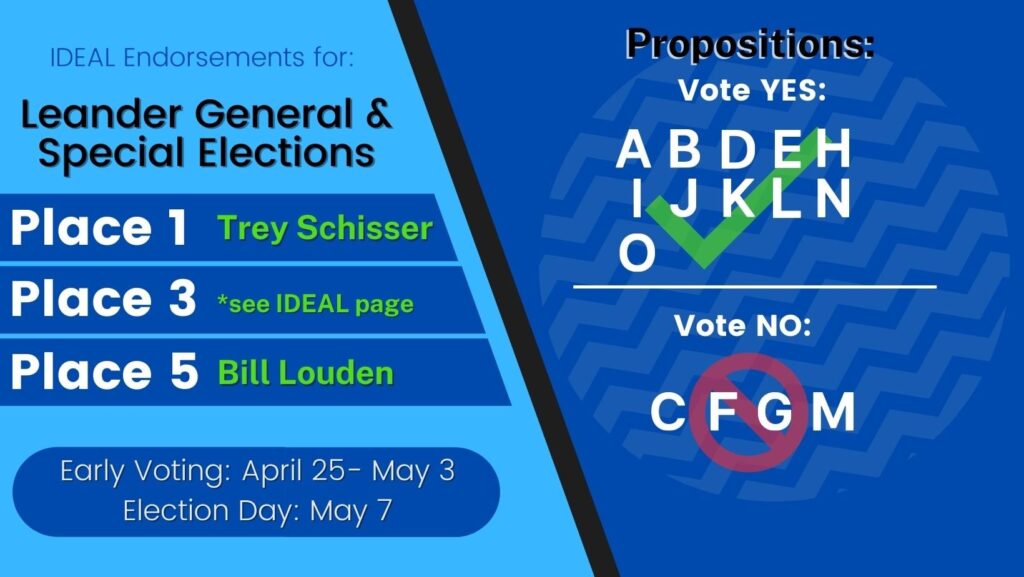 *With multiple IDEAL members as candidates in the 4-way race for Place 3 in Leander, we have declined to endorse a specific candidate in that race. We CAN say, however, that we strongly recommend against David McDonald due to his support from previous mayor Troy Hill and well-known political instigator Andy Pitts.
For information on why that's relevant, both in Leander and Cedar Park races this year, see our coverage of last year's 2021 election and understand some of the hateful folks working against our communities.
Vote in Cedar Park
See a consolidated sample ballot:
Find a voting location:
Be a voter
EVERY vote counts, and you have the power to determine how our elected leaders fight for and represent everyone in our community, and to ensure that those who work against equity and inclusion are not elected, especially in Cedar Park and Leander. Please get out there and vote on Saturday, May 7!